Three organizations from our area were recently recognized
Recognized for their work in creating an exceptional state-registered apprenticeship program for Plastics Process Technicians in the injection molding industry.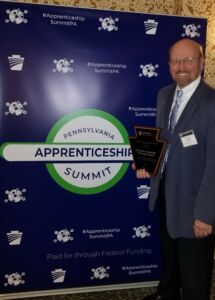 The Keystone Community Educational Council (KCEC), American Injection Molding (AIM) Institute, and Clarion University were awarded the 2019 Outstanding Group Apprenticeship Program Award by the Pennsylvania Department of Labor & Industry's Apprenticeship and Training Office. They were presented with the award during the Second Annual Apprenticeship Summit in Hersey, Pennsylvania on October 30th.
This distinction is particularly remarkable as the program is only in its second year of operation, and it is already exceeding expectations for its students and their employers.
Apprentice Lindsey Clark, a Process Technician at GeorgeKo Industries in Erie, has seen a huge benefit from her coursework and on-the-job training. "Our industry needs more educated people to solve problems and troubleshoot on the shop floor. I have been able to advance in my role to take on additional responsibilities including mold setting, process setup, and front-line troubleshooting. I know that my employer sees me as a greater asset and I have enjoyed taking on these new challenges."
Barry Drayer and Wyatt Haines, Process Technicians from Viking Plastics in Erie and Whirley Industries in Warren, have both been impressed by the instructor team. "The courses are well-taught, and the teachers are dedicated and patient with our questions," said Drayer. "We learn the 'why' behind what we are being taught, and this knowledge will definitely be a stepping stone for advancement," added Haines. "Our company has already identified two more people that will be coming through the next cohort."
Clarion, KCEC, and the AIM Institute worked with a collaborative of twelve plastic manufacturers to develop the program's curriculum. "Our program's combination of hands-on experience and classroom learning provided by AIM and Clarion is tailored to the exact needs of the injection molders in our region," said John Beaumont, Founder and Executive Director of AIM. "Our local plastics industry has been asking for training like this for years, and we are excited to be one of the educational institutions leading the charge to advance manufacturing in our area."
Dr. Tammy Dulaney, Interim Director of Workforce Development for Clarion University, agrees. "Today's employers seek highly skilled personnel with comprehensive knowledge that applies to real-world settings. We developed a competency-based training program to measure proficiencies mastered through student experiences and assessments. Such an outcome-focused framework increases the awareness and accountability for workforce training programs and makes job-related credentials more transparent and relevant to employees and employers."
Organizations that send their employees through this training may also be eligible for a significant reimbursement through funding from the Greater Ohio-Pennsylvania Manufacturing
Apprenticeship Network (Oh-Penn), the Appalachian Regional Commission (ARC), and the Workforce and Economic Development Network of Pennsylvania (WEDnetPA).
Companies interested in learning more about the Plastics Process Technician Apprenticeship Program, or wanting to be placed on the contact list for the next program beginning in 2020, can contact Lance Hummer, Executive Director of the Keystone Community Educational Council, at 814-677-4427 or [email protected].